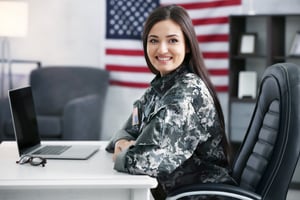 Broadcast from many a telecom speaker during business meetings, the phrase "win-win" is often uttered in an attempt to build support for an idea or initiative, with the hopes of convincing those affected that pursuing a proposal is advantageous for all parties involved.
Frankly, "win-win" is one of those crutch phrases that often gets misused and abused, as evidenced by its common appearance on the various "Business Buzzword" bingo cards that office workers generate online and download before attending a meeting (tsk tsk).
However, when considering the many upsides to tapping U.S. military veterans to fill the void being felt by corporations in the area of cybersecurity, "win-win" is the perfect way to describe the benefits realized by veterans, the hiring companies, and their customers.
Don't let the cyber thugs win
Almost a day doesn't pass without a mention in the news of a cybersecurity breach somewhere in the world. In 2018, total global attacks increased a whopping 62% at 210 million, and 49% of global business leaders anticipate some form of cyberattack upon their organization in the near future.1
In today's digital landscape, businesses must be diligent and prepared to safeguard the sensitive personal and corporate financial data that they handle. A breach can mean substantial loss of revenue, clients, customers, and reputation.
Dependence on computer systems and connectedness has heightened significance for cybersecurity across all industries. Crucial information that is key to an organization's survival is being guarded with digital protection measures. And having a robust cyber defense means having skilled, trained cybersecurity professionals available for hire.
However, according to a report by Cybersecurity Ventures, there will be a staggering 3.5 million unfilled cyber positions by 2021.2 And in the 2017 Global Information Security Workforce (GISW) Study, two-thirds of the nearly 20,000 responding companies indicated that they lacked the number of cybersecurity professionals needed for today's threat landscape.3
Closing in for the win
How to close this gap? One way is with veterans serving their country again as cybersecurity professionals working to protect U.S. businesses and their customers. About 550 service members a day leave military service, and 250,000 military members are expected to leave each year for the next five years.4
Many veterans are entering the civilian workforce with unique skillsets that make them ideal candidates for a career as a cybersecurity professional:
Today's military is highly technical, trained to use some of the most sophisticated technologies running on some of the most highly targeted networks in the world.
Situational awareness, maintaining security, and support for chain-of-command are all hands-on experiences that translate to the cybersecurity battlefield and a role in cyber defense.
Many veterans possess security clearances, which are not only expensive for private organizations to obtain and maintain but can also take up to 18 months to complete.5
A veteran who worked in IT while serving most likely holds industry certifications and has years of hands-on experience operating sophisticated networks and technologies, often under extreme conditions. To employers looking for talent, this background is extremely desirable.
As for transitioning veterans who lack some of the technical training, they still possess skills that align well with cybersecurity fields, such as being conditioned for on-the-job training, intelligence gathering, planning, and leadership skills.6
And to top it off, by hiring veterans to satisfy your demand for much needed cybersecurity professionals, you as the employer may also be able to take advantage the WOTC (Work Opportunity Tax Credit), a lucrative tax incentives program that can improve your tax budget and increase your bottom line.
Winning with the WOTC
U.S. military veterans are among the targeted groups for which many state and federal governments award tax incentives to employers for providing jobs to eligible individuals with certain backgrounds.
Veterans who served on active duty in the United States armed forces for more than 180 days, not including training, or who have been released from duty due to a service-related disability, may qualify your company to receive savings through the WOTC. Additional qualifications include the veteran being a member of a family receiving assistance, such as food stamps, or having been unemployed for at least 4 weeks or more.
As you can see, "win-win" is much more than a buzzword when it comes to leveraging the skills and experience of U.S. military veterans to fill the need for cyber defense experts. A veteran has a chance at a lucrative career, your customers' sensitive data is proactively safeguarded, and your business' reputation is preserved, all with the possibility of realizing significant tax savings for your company.
To learn more about the WOTC and all the tax incentives for which your business may qualify, reach out to CTI's elite tax specialists and schedule your complimentary consultation today.
1. Cyber-attack is now a case of 'when' and not 'if' for UK CEOs, KPMG, 2018
2. Cybersecurity Jobs Report 2018-2021, Cybersecurity Ventures, May 2017
3. The Cyber Talent Gap Is Becoming a National Crisis, InCyberDefense, Nov 2018
4. Fill Your Cybersecurity Skills Gap with Veterans, CSO Online, Nov 2018
5,6. Addressing the Cyber Security Skills Gap with Veterans, Security Magazine, Mar 2018