CPA firms don't have to go it alone
Deliver greater tax savings for your clients by partnering with R&D tax credit specialists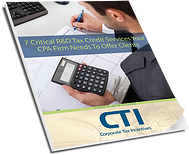 You know your clients. You are their trusted advisor with unique insight into their history, preferences, and goals.
To provide the comprehensive service they expect from a CPA, you need a tax specialist on your side.
Download this guide to learn about:
How to identify clients that can benefit from the R&D tax credit
Expert R&D tax credit services to compliment your firm
What you should expect from a partnership with a tax specialist
Find out why CTI is the partner of choice for broadening your portfolio of services and surpassing rival firms.